You are here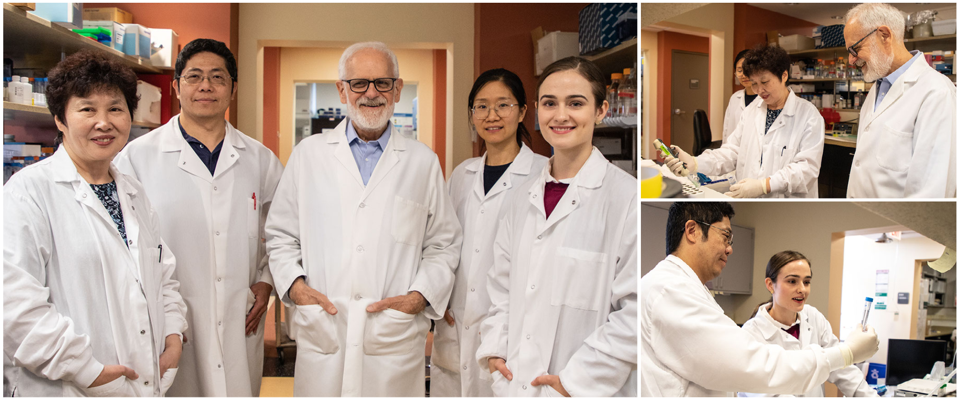 Decades of Research Advancements Pave the Way to Slow Down Alzheimer's Disease by Targeting Early-Onset
June 4, 2021
A Closer Look Inside the Brain
Weighing about 3.3 pounds and divided into three main parts, the human brain is a complex command center that powers function throughout the body. As the largest part of the brain, the cerebrum is responsible for remembering, problem solving, thinking, feeling, and powers body movement. In a thriving brain, nerve cells, that are called neurons, are connected together by branches that join in over 100 trillion points. Neuroscientists call this dense branching network the "neuron forest." It is where memories, thoughts, and feelings are stored and recalled through signals that travel along the branches.
The Brain Depends on Sugar and Oxygen
Through the digestion of food, the human body converts carbohydrates into glucose, a type of sugar. When hard at work, about 100 billion nerve cells in the brain are being nourished with oxygen and fuel, including glucose, by a network of blood vessels. Neuroscientists have discovered that although the brain represents only two percent of human body weight, it utilizes around 20 percent of the body's source of oxygen and glucose. Brain functions such as thinking, memory, and learning are closely linked to glucose levels and how efficiently the brain uses this fuel source1. This shows how crucial glucose is for the brain to function.
A Brain with Alzheimer's Disease
Today, scientists still do not know the cause of Alzheimer's disease (AD). Thanks to many brain donors, researchers have been able to observe that a brain with severe AD is much smaller in size compared to a brain without disease. As mild memory loss and function progresses into late-stage AD, neuron cells die and the brain shrinks dramatically. Using state-of-the-art microscopes, neuroscientists looked deep into layers of brain tissue with AD and discovered plaques, build-up between nerve cells, as well as misfolded tangles, twisted strands of protein2.
Detecting Alzheimer's Disease Early On
At the Alzheimer's Association International Conference 2020, multiple studies on advances in blood tests designed to detect early signs of AD show promise for low-cost diagnostics compared to high-cost imaging scans3. As blood flows out of the brain, proteins associated with the development of AD plaques and irregular tangles collect in the blood stream. Advances in technical equipment used in laboratory analysis have made these new blood tests that detect specific proteins possible. While on the horizon for FDA approval, blood tests for AD are in use by researchers for AD clinical trials, and for the first time, tests for AD are becoming available to physicians and patients through out-of-pocket costs. Being able to detect signs of AD many years before cognitive symptoms develop is a significant advancement—it enables opportunities for potential treatments and therapies to have a chance to slow down the development of AD.
A Pilot Therapeutic Drug Study Offers Hope to Mild Alzheimer's
Preclinical experiments on vitamin B1, thiamine and AD by the Gibson Lab led to a small exploratory clinical trial, Benfotiamine and Cognitive Decline in Alzheimer's Disease. CNN Health's article on "Top 2020 health stories you may have missed because of Covid-19" listed the therapeutic drug study under Advances in Alzheimer's. Over the last seven years, research findings have shown that individuals living with AD may have a decrease in glucose utilization in the brain for 20 to 30 years prior to signs of memory loss. Vitamin B1, thiamine has been known for decades to be critical for processing glucose. A therapeutic drug that raises blood vitamin B1, levels very high, called Benfotiamine, was tested as a pilot clinical study conducted by the Gibson Lab at the Burke Neurological Institute in collaboration with physicians at the Burke Rehabilitation Hospital. New data from the twelve-month study suggests that Benfotiamine is a safe treatment and potentially efficacious in improving cognitive outcomes among people living with Mild Cognitive Impairment and mild AD.
"The hope is that increasing thiamine will improve brain function and ultimately slow or stop memory decline." — Dr. Gary E. Gibson
For more information, results from this pilot clinical trial are now published in a manuscript online by the Journal of Alzheimer's Disease.
Sources:
Participate in Our Alzheimer's Studies
Join our research registry
To be contacted about future and upcoming Alzheimer's disease clinical trials please join our research registry. To join the research registry, simply fill out our online questionnaire.
Featured Researchers and Members