You are here
Our History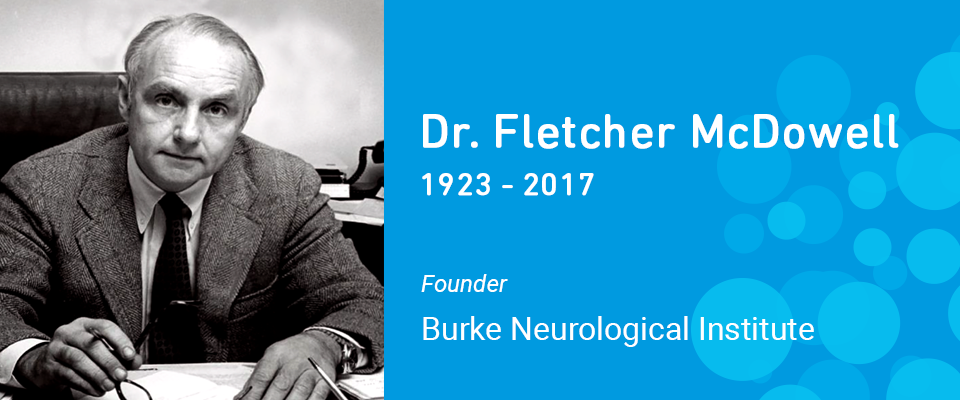 A Strong Foundation
The strong tie between Burke Rehabilitation Center and Weill Cornell Medicine has been apparent from the founding of the Burke Rehabilitation Hospital in 1915. Dr. Lewis A. Conner, a founding member of the medical college, urged his patient and friend, John Masterson Burke, to establish the Winifred Burke Relief Foundation. Dr. Conner, who served as president of the Burke Foundation and medical director of the Burke Rehabilitation Hospital had a strong interest in applying laboratory findings and clinical research to advance medical treatments.
World-Class Research for Rehabilitation Medicine
In the early 1970's, Dr. Fletcher McDowell became the director of the Burke Rehabilitation Center. Dr. McDowell was an associate dean at Weill Cornell Medicine and an expert in stroke and Parkinson's disease. Dr. McDowell understood the importance of world-class research for rehabilitation medicine and for training future leaders.
Fletcher McDowell, M.D., established Burke Neurological Institute, formerly Burke Medical Research Institute, in 1978 as one of the nation's preeminent, independent research organizations focused on furthering scientific research in the area of rehabilitation for neurological disabilities induced by stroke, spinal cord injury, traumatic brain injury, Alzheimer's disease and Parkinson's disease. His decades of service led to the pioneering of novel rehabilitation therapies and development of innovative clinical programs and clinics.
Burke Neurological Institute & Weill Cornell Medicine
Dr. McDowell also established a close connection to the Department of Neurology at Weill Cornell Medicine, which was and still is among the best departments in the world. This tie was critical for recruiting outstanding scientists/physicians to Burke and for providing the intellectual enrichment necessary to maintain quality faculty at Burke. The Burke/Cornell relationship has laid the groundwork for the creation of an outstanding research/training program oriented toward patient rehabilitation.