You are here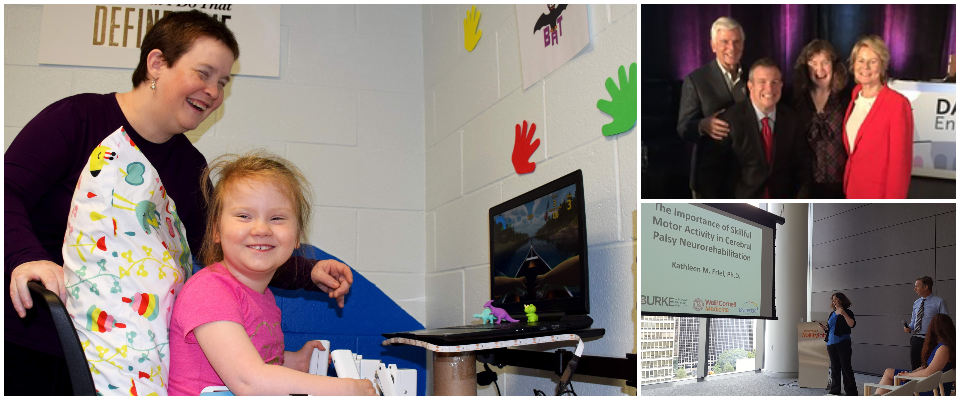 Spotlight Interview with Dr. Kathleen M. Friel
October 4, 2019
This month we are shining a spotlight on Dr. Kathleen M. Friel, Lab Director for the Clinical Laboratory for Early Brain Injury Recovery at Burke Neurological Institute, Director of Cerebral Palsy Research at Blythedale Children's Hospital, Scientific Advisory Council Member of the Cerebral Palsy Foundation. Dr. Friel's is a brilliant scientist with cerebral palsy. Her successful research and mission of helping others with cerebral palsy to reach their full potential continues to bring hope to many.
Why is the Burke Neurological Institute important to you?
Burke Neurological Institute (BNI) is important to me in so many ways! I love having the opportunity to conduct research in this collegial, stimulating environment. As a basic-scientist-turned-clinical-researcher, I enjoy the breadth of expertise at BNI. It's exciting to see basic scientists and clinical researchers collaborating to bring the newest neuroscience discoveries to clinical populations who desperately need better therapies. 
What are your hobbies outside of work?
Outside of work, I love practicing taekwondo – I earned my black belt in April 2019! I am very involved in my church – one of my favorite annual events is hosting a Super Bowl party at our homeless shelter, talking smack with the residents, all of whom hate my beloved Patriots. I also enjoy my Scrabble Squad of friends who love the letter Q, visiting my family on Cape Cod, and traveling.
How did you get involved in cerebral palsy research?  Did your own CP factor into this decision?
You'd think so, right? I didn't set out to do CP research. After completing my PhD in a stroke model, I began a postdoc at Columbia. My mentor, Jack Martin, was hoping to continue some work on perinatal brain injury, AKA CP.  It kind of fell into my lap, and I am so lucky. After a few years, I met a scientist at Columbia who was doing clinical trials for kids with CP. Long story short, I have been collaborating with him now for 10 years, and we just renewed our R01 together to study the ability of transcranial direct current stimulation to improve the efficacy of physical training. We also have an R01 to study the contribution of the sensory system to movement impairments in children with CP. 
Although I did not specifically seek out CP as a research career, I'm so glad it's worked out this way. Many kids in our studies are amazed to see someone with CP directing a lab. A kid once told me, "I want to be the boss someday, just like you!" (wait 'til he finds out how much work is involved!) When I was growing up, there were no role model adults with CP on my radar. Even today, when I go to conferences and events, I'm often the only person with CP there. I had wonderful role models who didn't have a disability but who encouraged me to be independent and hard-working. I hope that I am a role model to the kids I meet. 
How do you think BNI could be more inclusive of people with disabilities?
There is still somewhat of a taboo about discussing disabilities and health challenges. To me, it's kind of like being from a different culture. I look a bit different, I have a CP "accent", what's not to celebrate?!  Research has shown that even if a person has substantial physical impairments, the biggest "disability" is overcoming the stereotypes and misunderstandings of others. I can definitely relate. When I was a kid, I got teased a lot – not because kids were mean, they just didn't understand. My parents realized this. They started coming to my school to have discussions with my class about my CP, and people with disabilities in general. The teasing shut down. Every once in a while, a new kid would tease me, but my classmates would reprimand them! I think that education and openness about disabilities is essential. I think we need more of this at BNI. As we are working to develop cures, we can't forget who we are serving, how important they are, and what they need.  
Specific ideas for including people with disabilities better: have a patient (or panel!) give the Tuesday seminar about living with their disability. Invite scientists with disabilities to speak. Include people with disabilities in planning big events. Get to know them. Don't make assumptions about what a person can or cannot do. Don't tease. And remember that some disabilities are "invisible." 
Featured Researchers and Members