You are here
Single Cell Transcriptome Analysis of Regenerating RGCs Reveals Potent Glaucoma Neural Repair Genes
EVENT:
Weekly Seminar | Not Open to the Public
Who Should Attend:
Researchers
Event Flyer:

seminar-061422-yang-hu.pdf
Abstract
Axon regeneration holds great promise for neural repair of CNS axonopathies, including glaucoma. Pten deletion in retinal ganglion cell (RGC) promotes potent optic nerve (ON) regeneration, but only a small population of Pten-null RGCs are actually regenerating RGCs (regRGCs); most surviving RGCs (surRGCs) remain non-regenerative. Here we developed a strategy to specifically label and purify regRGCs and surRGCs respectively from the same Pten deletion mice after ON crush injury, in which they differ only in their regeneration capability. Smart-Seq2 single cell transcriptome analysis revealed multiple novel regeneration-associated genes that significantly promote axon regeneration. More strikingly, some of the axon regeneration genes dramatically protect RGC somata and axons and preserves visual function in a clinically relevant model of glaucoma, demonstrating the exciting potential of this innovative strategy to identify novel effective neural repair candidates.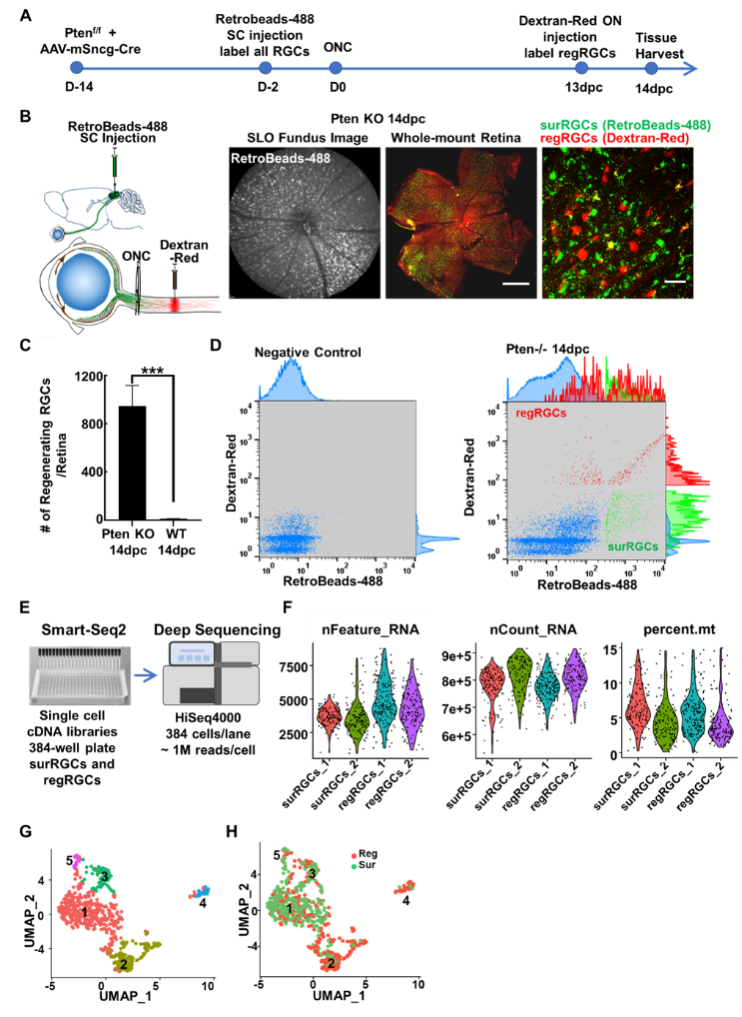 Publications
Mol Ther. 2022 Apr 6;30(4):1421-1431. doi: 10.1016/j.ymthe.2022.01.035. Epub 2022 Jan 31.
J Neurosci. 2020 May 13;40(20):3896-3914. doi: 10.1523/JNEUROSCI.0102-20.2020. Epub 2020 Apr 16.