You are here
YOUR SCIENTIFIC PATH: Spotting Your Bright Future
October 5, 2018
Annual Retreat 2018
Faculty and staff of the Burke Neurological Institute ventured off-site to attend a two-day Annual Retreat at the Skytop Lodge, a majestic lodge in the Pocono Mountains of Pennsylvania. The serene wilderness displayed a beautiful setting for the 15th Annual Retreat. Faculty and staff reconnected and rejuvenated as they reviewed the Institute's values and mission and discussed this year's theme scientific career paths.
To open the retreat, Dr. Raj R. Ratan, executive director of the Institute, welcomed all faculty and staff and introduced keynote speaker Dr. Lynn Raymond, a professor and director from the University of British Columbia. Dr. Raymond presented "Altered Synaptic Plasticity in Prodromal Huntington Disease: Mechanisms and Therapeutic Targets" and shared results from her lab that suggest new directions for improving cognitive function in prodromal and early stage Huntington disease. After a short break, the faculty and staff engaged in a discussion session on scientific career paths. Everyone in attendance shared thoughts and ideas on how to best nurture trainees to maximize their potential and mentor them in navigating critical, professional life choices.
After lunch, artistic skills were challenged in the team building activity held at Skytop Lodge's indoor recreational center. A landscape painting of a vibrant tree with fall foliage of yellow, orange and red leaves was painted by each participant. In the early evening, the Institute showcased 11 cutting-edge posters featuring basic, translational & clinical neuroscience research for stroke, traumatic brain injury, spinal cord injury, cerebral palsy, Alzheimer's, and retinal degenerative diseases. After dinner, the evening concluded with lively karaoke where Jessica Curtin, Karen Chin, Claudio Ferre and Darlene White rocked it by singing "Rolling on the River!"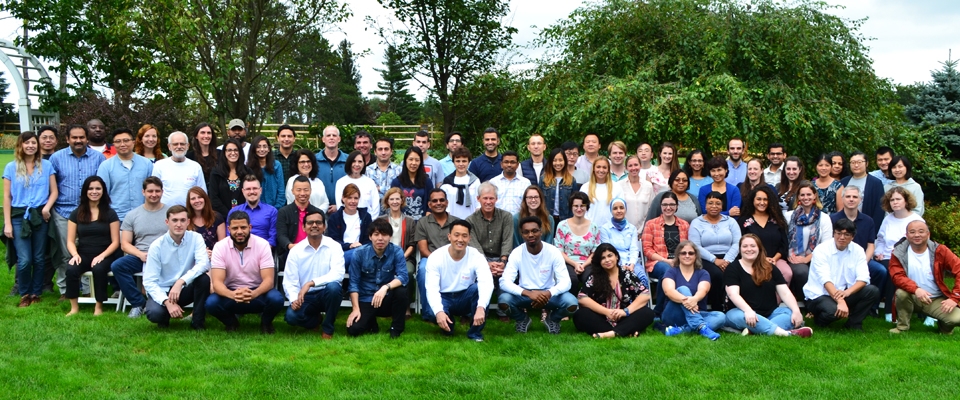 On the second day, faculty and staff were all ears to keynote speaker, Dr. Timothy H. Murphy, a professor from the University of British Columbia as he presented "Mouse In Vivo Imaging and Optogenetic Tools for Elucidating Cortical Circuit Structure and Function Following Stroke". After a short break, Christine E. Hughes, vice president of institutional advancement, spoke about Brand Stickiness drawing upon the science hope demands. Following a short break, 26 flash talks spotlighting brilliant science and techniques being conducted to advance neurological treatments for motor, pain, sensory, cognitive, and vision impairments offered inspiration and hope to depart the retreat with several notions of possibilities. Before returning to Burke, faculty and staff enjoyed a relaxing lunch, having set high aspirations for themselves and the Institute's upcoming year.
Featured Researchers and Members