You are here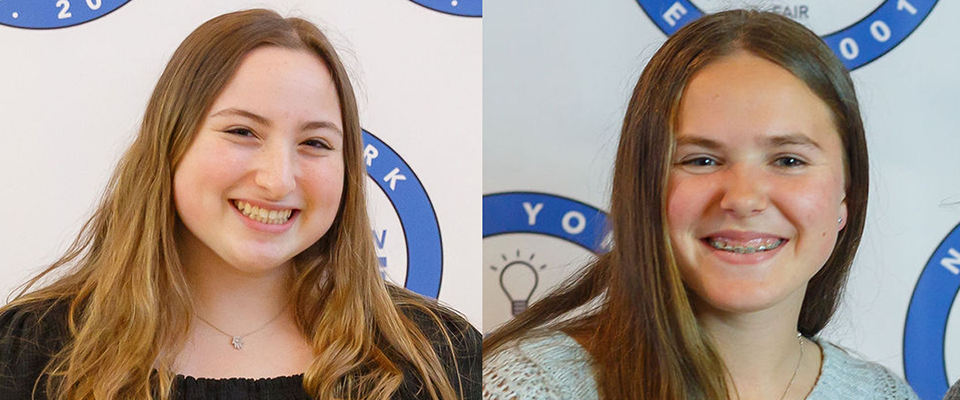 Young BNI Research Volunteers Win Awards at the Regeneron Westchester Science and Engineering Fair
April 19, 2022
Awarded By:
Regeneron Westchester Science and Engineering Fair
On March 24th, Michelle Sosner, Christina Kelly, and Kalyna Raguso, three research volunteers from from the Burke Neurological Institute, received awards at the Regeneron Westchester Science and Engineering Fair. Sponsored by Regeneron, the fair showcases outstanding research from high school students in Westchester and Putman counties and recognizes their notable achievements.  
Meet the Award Recipients
Michelle Sosner, a junior at Scarsdale High School, has been a part of the our volunteer research science program since her sophomore year in the Ratan Lab. At the Regeneron Westchester Science and Engineering Fair, Michelle presented her findings on inducing cell death with an injection of ferroptosis and preventing cell death with an injection of UK-5099. Following her impressive presentation, Michelle was awarded the Carl Zeiss Microscopy Award. The award is given to students whose projects demonstrate scientific curiosity and the use of a microscope. As a research volunteer, Michelle is mentored by Dr. Rajiv R. Ratan and Dr. Amit Kumar of the Ratan Lab. Apart from volunteering in the Ratan Lab, Michelle has also taken our Introduction to Neuroscience course and will be attending the NeuroAcademy summer enrichment program starting this June. Michelle's goal in life is to finish college and eventually become a neurologist!
Christina Kelly, a junior at Westlake High school, has been working as a remote research volunteer in the Hollis Lab since her sophomore year. Christina was introduced to the Hollis Lab while participating in the Introduction to Neuroscience course. During the virtual Regeneron Westchester Science and Engineering Fair, Christina presented her work entitled "A Novel Investigation of the Effects of EphA4 on Axon Regeneration in the Spinal Cord." With her exceptional presentation, Christina placed second in the field of Cellular & Molecular Biology. She received a silver medal and a small monetary award. Christina's project ranked in the top 20 finalists and was selected to advance to the Regeneron International Science & Engineering Fair taking place next month in Atlanta, Georgia. Please join us in wishing Christina the best of luck at the international fair!
Kalyna Raguso, a previous summer student in the Prusky Lab has had several accomplishments that are attributed to the research she conducted at Burke Neurological Institute. Kalyna is a proud recipient of the "Innovations in Biological Sciences Research Award" at this year's Regeneron Westchester Science and Engineering Fair. Kalyna also presented in a regional level breakout group with 12 students and 5 judges at the Junior Science and Humanities Symposium in the Biochemistry/Neurology I category and won 5th place. In the fall of 2022, Kalyna will be studying neuroscience at Binghamton University. Congratulations Kalyna!
The community of BNI congratulates Michelle, Christina, and Kalyna on their remarkable achievements and wishes to thanks them for their dedication to the Institute. With these programs, along with other STEM initiatives, we can continue to encourage young women, like Michelle and Christina to pursue a career in the sciences.
Featured Researchers and Members