You are here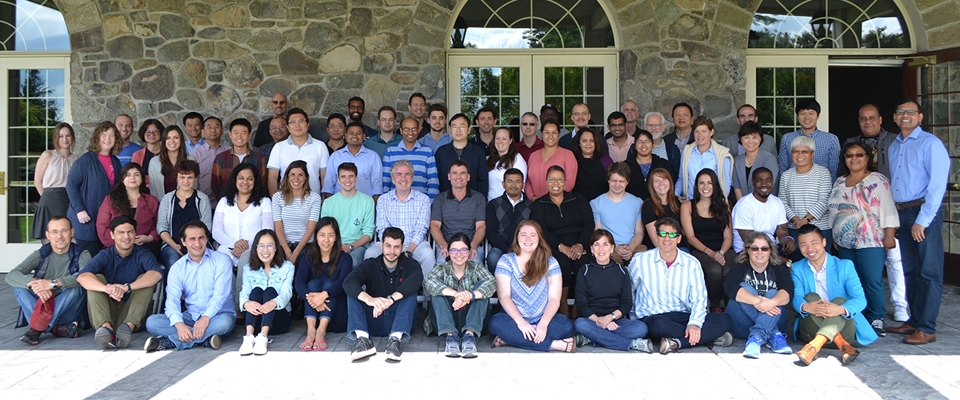 Faculty and Staff Convene at 14th Annual Retreat to Focus Attention on Advancing the Institute: Locally, Nationally, and Globally
September 15, 2017
Faculty and staff of Burke Medical Research Institute (BMRI) ventured off-site to attend a two-day Annual Retreat at the Skytop Lodge, a majestic lodge in the Pocono Mountains of Pennsylvania. The serene wilderness furnished a beautiful setting for the 14th Annual Retreat, allowed faculty and staff to reconnect and rejuvenate, as they reviewed the Institute's values and mission and examined challenges and opportunities towards Advancing the Institute: Locally, Nationally and Globally.
To open the retreat, Dr. Timothy A. Ryan, a distinguished professor from the Department of Biochemistry at the Weill Cornell Medicine delivered the keynote presentation "THE COST OF THINKING: Metabolic Control of Synapse Function". After a short break, the faculty and staff engaged in two aspirational presentations about Advancing the Institute. Dr. Rajiv R. Ratan, executive director of Burke Medical Research Institute, addressed "Setting the Stage" followed by, Christine E. Hughes, vice president of institutional advancement of Burke Medical Research Institute, who delivered a "Call to Action" on how faculty and staff can participate in Advancing the Institute through branding and fundraising initiatives.
After lunch, faculty and staff joined in for team building activities held at Skytop Lodge's indoor recreational center. Teams competed against each other and athletic skills were put to the test in such events as tag-of-war, wheel-barrow race, and egg relay. Congratulations to winners Edmund, John, Yu, Jordan, Revis, Saravanan, Nancy, Zoe, Xiaofei, and Ishraq. Later in the evening, faculty and staff gathered to network at a poster session showcasing an array of sixteen neuroscience findings from across the Institute. The evening concluded with delightful patio dinner followed by a competitive trivia contest won by team two after a double tie with team four, and a lively late evening of karaoke where the Burke House rocked it with "We Are the Champions."
On the second day, faculty and staff were all ears to 29 flash talks spotlighting current research studies and techniques being conducted to advance motor recovery, growth recovery, sensory recovery, and cognitive recovery across the Institute. Following the flash talks, five small teams brainstormed in round table discussion on social media content strategy. Before returning to Burke, faculty and staff enjoyed a relaxing lunch, having set high aspirations for themselves and the Institute's upcoming year.
Featured Researchers and Members