You are here
Summer Science Research Program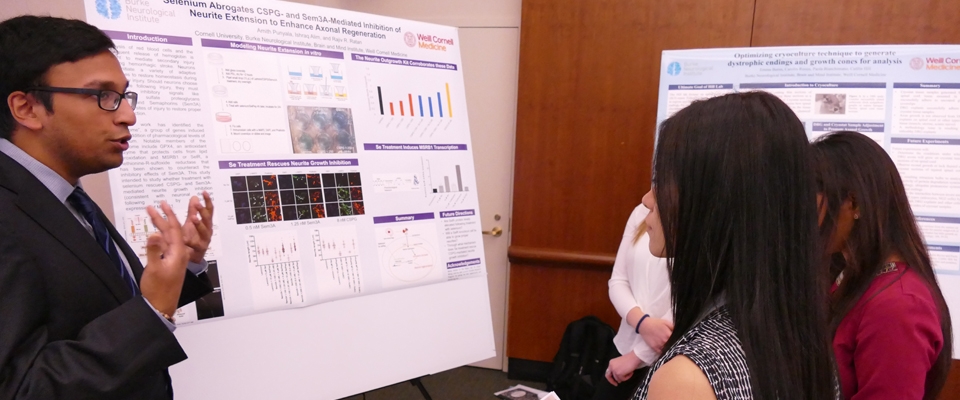 Coronavirus Update
To protect the health of the people we serve, Burke Neurological Institute has temporarily paused student applications and enrollment in Summer Science Research Program and Student Volunteer opportunities. At this time, Burke Neurological Institute is only offering lessons to high school students for the Introduction to Neuroscience via online webinars. Science across the Institute is prospering as we slowly reopen the Institute and work remotely analyzing data, writing papers, and applying for new funding sources. As we practice social distancing, we assure you: we are with you. 
Summer Science Research Program
Burke Neurological Institute invites interested and qualified undergraduate students to apply to our Summer Science Research Program. The purpose of this program is to give undergraduate students interested in pursuing a career in biomedical sciences the opportunity to conduct cutting edge research. Participants will be part of a laboratory research project related to neural repair and rehabilitation. Summer research scholars will have considerable direct interaction with their faculty mentors and the Burke staff.
Program participants also attend both introductory and professional level research seminars. Burke Neurological Institute hosts a weekly seminar series given by international leaders in neurobiology and neurorehabilitation. The summer program also holds a weekly summer seminar series given by Burke faculty that is designed to engage students in discussions about specific topics in neurobiology and neurorehabilitation as well as career development in biomedical research.
The Summer Science Research Program is a 10-week program that will run from June 1 through August 7, 2020. Acceptance into the program requires student availability and participation for the entirety of the program duration. Trainees will receive a stipend of $3,000 that begins July 1st. Housing and transportation are not provided and are the responsibility of each trainee.
Students participating in the program are expected to meet the following minimum criteria:
Current enrollment in, and completion of at least one full academic year at, a U.S. college or university. 
Completion of an introductory biology course.
Although not required, preference will be given to students who have also completed one semester of bench laboratory classes or equivalent experience.
A cumulative 3.4 G.P.A. or better (unless special circumstances can be provided).
2 letters of recommendation from faculty able to accurately judge the applicant's abilities and motivations.
A transcript and resume in addition to the completed applicant form.
Application Process
A completed application and required documents must be submitted by the application deadline March 6, 2020.
Students will be notified the week of March 23, 2020 of their acceptance in this program.
A completed online application includes the following required documents:
Undergraduate transcript (a student copy is acceptable)
Resume or C.V.
2 Letters of recommendation (from faculty able to accurately judge the applicant's abilities and motivations)
STEP 1
Identify specific research labs that match your interest. Select your top three choices for lab/faculty in which you are interested. See list of faculty mentors below.
STEP 2
Collect and gather the following documents in either a MS Word or PDF file format to upload to your application:
Undergraduate transcript (a student copy is acceptable)
Resume or C.V.
STEP 3
Select two faculty/professors that are able to accurately judge your abilities and motivations. Gather an email address for each faulty/professor. You will input each email addresses into your online application. Once your application has been submitted an email with a link and instructions on how to submit a letter of recommendation using an online form will be automatically sent to your selected faculty/professors. Follow up with the faculty/professors you have listed as a referee to let them know to look for the email with the subject "BNI Summer Science Application – Letter of Recommendation".
To complete your application two letters of recommendation must be submitted by the application deadline March 6, 2020. You will receive an email confirmation after the faculty/professor has submitted a letter of recommendation. If you do not receive an email confirmation in a timely manner, please follow up once again to remind your faculty/professors to submit a letter of recommendation.
STEP 4
Prepare your written statements by previewing the online application:


bni-summer-science-application-10032018.pdf
STEP 5
We are no longer accepting applications for 2020.
Students with incomplete applications will not be considered.
All interested applicants are welcome to contact the program coordinator with any questions regarding this process.
Summer Science Scholars - Class of 2019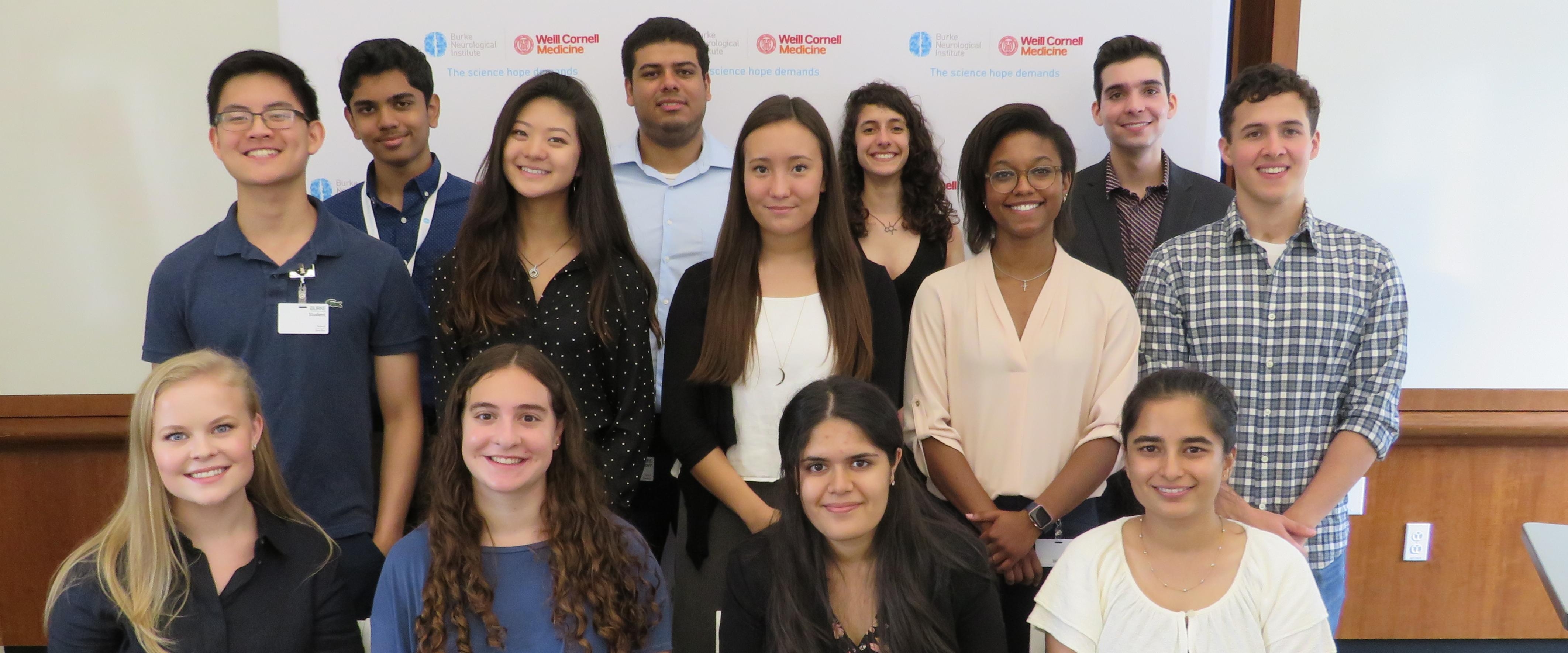 Reina Ashizawa
Poster Title: Observing Proportional Recovery in Mouse Models of Stroke 
Mentors: Mustafa Balkaya, Ph.D. 
Academic Institution/Year: Tufts University, Class of 2021
Lisa Brontesi
Poster Title: Establishing an In Vivo Model of Adult Human Neurogenesis 
Mentors: Gary Gibson, Ph.D.; Huanlian Chen, M.S. 
Academic Institution/Year: Boston University, Class of 2021
Lydia Currie
Poster Title: Impact of Therapeutic Brain Stimulation on Upper Limb Training in Unilateral Cerebral Palsy 
Mentors: Kathleen Friel, Ph.D.; Claudio Ferre, Ph.D. 
Academic Institution/Year: University of Rochester, Class of 2020
Jeromy DiGiacomo 
Poster Title: Specification of Bulbar-Cervical Corticospinal Projections 
Mentors: Payal Patel, M.S.; Julia Kaiser, Ph.D.; Vibhu Sahni, Ph.D. 
Academic Institution/Year: Williams College, Class of 2020
Mohamed El-Abtah
Poster Title: Anatomical and Functional Analysis of vGlut-Cre Interneurons 
Mentors: Natasha Koppel, Ph.D.; Yutaka Yoshida, Ph.D. 
Academic Institution/Year: Harvard, Class of 2021
Raghavee Neupane
Poster Title: Kinematic Assessment of Upper Limb Movements in Patients with Ataxia 
Mentors: Tomoko Kitago, M.D.; Stuart Mackenzie, Ph.D. 
Academic Institution/Year: Miami University, Class of 2021
Dillon Noone
Poster Title: 3D Visualization to Evaluate Regenerative Responses of Sensory Neurons 
Mentors: Edmund Hollis II, Ph.D.; Juan Sebastián Jara, Ph.D. 
Academic Institution/Year: Wesleyan University, Class of 2020
Anya Wang
Poster Title: Zeb2 Transcription Factor Contributes to Stroke-Induced Scar Formation 
Mentors: Il-doo Kim, Ph.D.; Sunghee Cho, Ph.D.; John Cave, Ph.D. 
Academic Institution/Year: University of Chicago, Class of 2022
Summer Science Participants - Class of 2019 
Lauren Azrin
Poster Title: Pericyte Polarity is Dependent on Location Along the Retinal Vasculature 
Mentors: Botir Sagdullaev, Ph.D.; Elena Ivanova, Ph.D.; Paola Bianchimano, Ph.D. 
Academic Institution/Year: White Plains High School, Class of 2021
Anshuman Das
Poster Title: The Effect of Ferroptotic Inhibitors on Cell Death Induced by Sodium Arsenite Formed Stress Granules 
Mentors: Nandini Kundu, Ph.D.; Rajiv Ratan, M.D., Ph.D. 
Academic Institution/Year: Irvington High School, Class of 2021
Sonia Seth
Poster Title: KDM4C, A Histone Demethylase, As a Primary Target In Neuroprotection Against Ferroptotic Cell Death 
Mentors: Amit Kumar, Ph.D.; Rajiv Ratan, M.D., Ph.D. 
Academic Institution/Year: Edgemont High School, Class of 2020
Rebecca Taylor
Poster Title: EphA4 cKO Promotes Recovery after CST Injury 
Mentors: Edmund Hollis II, Ph.D.; Nadjat Serradj, Ph.D. 
Academic Institution/Year: Georgetown University, Class of 2022
Michael Wong
Poster Title: Improving Curveball: Making Vision Measurement Fast and Reliable 
Mentors: Jeremy Hill, D. Phil.; Scott Mooney, Ph.D.; Glen Prusky, Ph.D. 
Academic Institution/Year: Tenafly High School, Class of 2021