You are here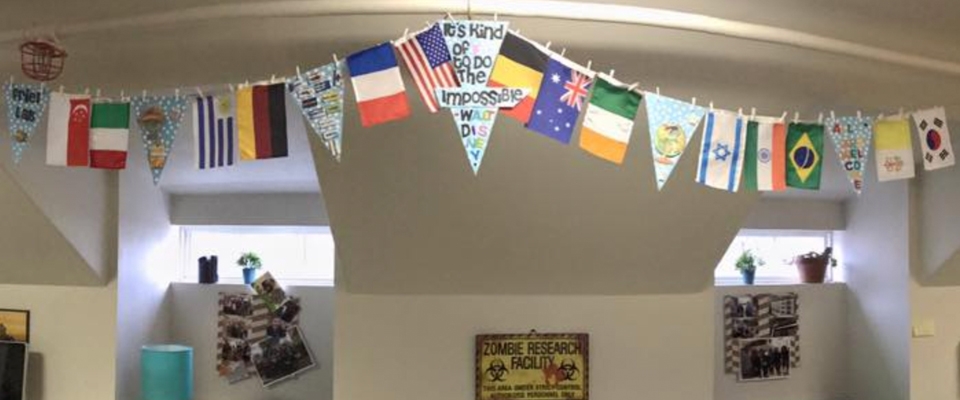 Our Institute: A Small United Nations
April 24, 2020
A few years ago, a member of my research laboratory expressed fear about changing policies regarding US immigration. As an American citizen, my eyes were opened to the challenges that immigrants and visiting scholars must face when they move to the United States. I felt sad, and I also questioned my ability to make any kind of difference. I knew that I wanted my lab members to feel fully welcome and appreciated, no matter where they were born. 
For some reason, I thought about the United Nations. I love going by the U.N., seeing all the flags hanging out front. I then had an idea that meshed well with one of my hobbies – shopping on Amazon. The next week, I surprised my lab by hanging a string of flags in our lab – one for each past and present lab member's nation of origin. The accompanying photo was taken soon after we hung our flags. In the years since, we've added many more flags, as we've hired new staff and welcomed students.
Hanging flags, without doing anything else, is not very meaningful. I hope that my lab, and our Institute, will be spaces where all voices are heard, all people are respected, no matter where they were born. I cannot help but be grateful for the many ways that immigrants working in my lab have made remarkable contributions to the lives of the children we serve, and to the welcoming spirit of our lab. 
Since I moved to Burke Neurological Institute in 2013, 100% of our publications have included at least one foreign born coauthor. Without the wisdom of these valuable scholarly partners, we would not yet understand that accurate movement requires good tactile sensation. We would not know that upper limb robotic training could improve hand function in adults with cerebral palsy (CP). We would not have unbiased, automated, accurate methods for analyzing neurophysiological data. We would not be making such strong progress in developing a wellness program. We would not have discovered that intensive hand training can change brain maps in kids with CP. We would not have the expertise to conduct detailed kinematic studies, to understand how people with CP move. We wouldn't have established such strong connections with local CP organizations. Also, we wouldn't be having quite as much fun while we work. We wouldn't have been introduced to such a variety of delicious foods and restaurants. I'd still think H-Mart was a knock-off of K-Mart. We wouldn't know so many slang words in multiple languages. 
While we're apart, perhaps we need to be a bit louder in our support and encouragement of one another. My lab, and my life, have been profoundly enriched by people born in other countries. A unique and wonderful feature of our Institute is that we all bring variety of cultures, languages, religions, and abilities, working in harmony to serve the neurological community. If you, or anyone in your family, is feeling anxious or unwelcome, please know how valuable you are to our nation and our Institute. No matter where you are from, I'm glad you're here. 
Featured Researchers and Members