You are here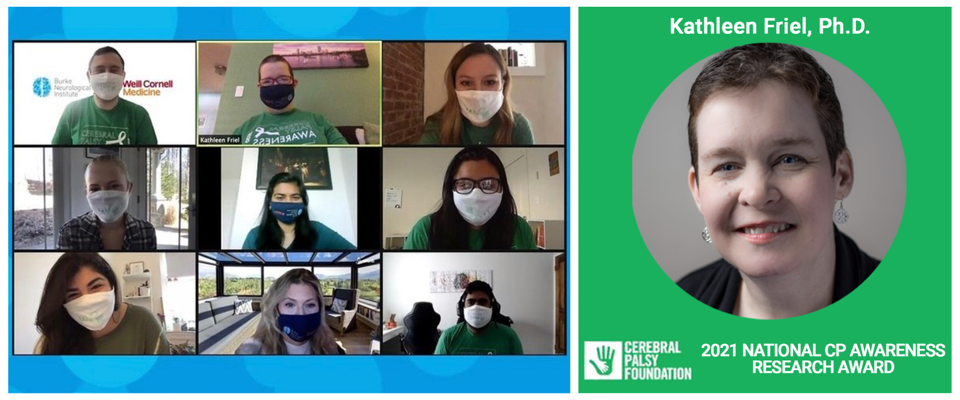 Dr. Kathleen Friel Announced as the 2021 National CP Awareness Research Award Recipient
April 13, 2021
Awarded By:
Cerebral Palsy Foundation
To conclude National Cerebral Palsy Awareness Month, the Cerebral Palsy Foundation announced with great honor, Dr. Kathleen Friel of the Burke Neurological Institute is the 2021 National Cerebral Palsy Awareness Research Award recipient. The Cerebral Palsy Foundation is leading research, innovation and collaboration that changes lives for people living with cerebral palsy—today. To carry out this mission, the Foundation seeks out the best thinkers to form collaborative networks which work together to bring about transformation.
Dr. Friel and by extension, her lab, is being honored with the Foundation's National Cerebral Palsy Awareness Research Award for their many years of successful research focusing on the importance of motor activity in cerebral palsy (CP) neurorehabilitation, and their mission to bring change to many living with CP.
"Research is a team effort," Dr. Friel emphasized. "This award honors the hard work of my brilliant current and former lab members and collaborators. I am enormously grateful for their passion and dedication.  We owe this award, and all our efforts, to the people who have participated in our studies, and those we hope our research will reach."
The Clinical Laboratory for Early Brain Injury Recovery at the Burke Neurological Institute, led by Dr. Friel, aims to improve hand function in children and adults living with CP. Their research engages people living with CP in intensive hand therapies, using intensive play-based therapy or robotic therapy. The Friel lab also uses non-invasive brain stimulation to study how intensive hand therapy changes motor circuits in the brain. By better understanding brain structure and function in children and adults living with CP, it is hoped that scientists will best be able to devise new therapies for people living with CP.
Going beyond research, as a brilliant scientist living with cerebral palsy, Dr. Friel is also a key influencer in changing the future of cerebral palsy. She shares her insightful perspective on cerebral palsy awareness in the media. On March 21, 2021, Survivingbreastcancer.org featured Dr. Friel's article Cerebral Palsy and Breast Cancer.  In 2020, Authority Magazine published Unstoppable: How Dr. Kathleen Friel has made incredible accomplishments despite cerebral palsy and metastatic breast cancer.
The community of the Institute congratulates Dr. Friel on being honored with the 2021 National Cerebral Palsy Awareness Research Award. We are proud of her commitment and dedication to bring change to many living with CP.
Featured Researchers and Members