You are here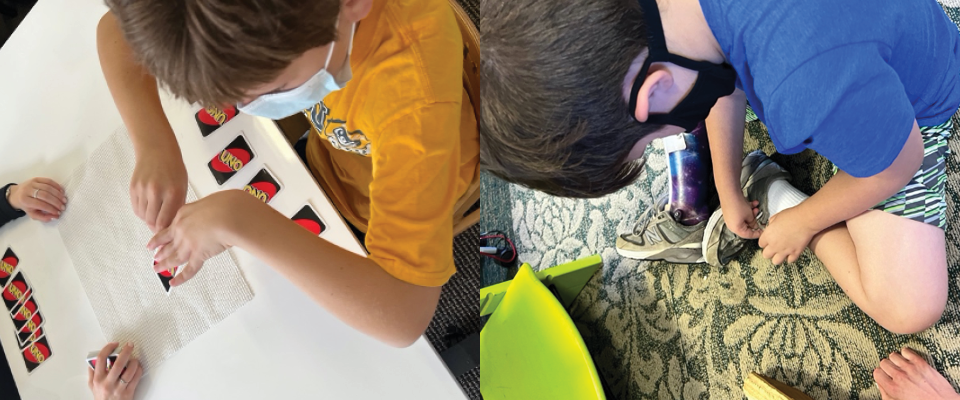 Children with Cerebral Palsy Stepped Up to the Challenge to See if Bimanual Training Combined with Transcranial Direct Current Stimulation Boosts Hand Function
July 1, 2022
In a summer camp-like setting from June 25-29, the Friel Lab of the Burke Neurological Institute hosted kids with cerebral palsy (CP) for the NIH-funded clinical trial "Bimanual Training & Transcranial Direct Current Stimulation (tDCS) on Hand Function in Children with Hemiplegia." In collaboration with the Center for Cerebral Palsy Research at Teachers College Columbia University, the research team and kids are examining whether transcranial direct current stimulation (tDCS) can boost the efficacy of bimanual training (2 hrs/day for 5 days). Kids and teens with CP used their hands in activities requiring bimanual coordination. Kids practiced functional bimanual goals, such as tying shoes and buttoning shirts, and had cutthroat Connect Four and Battleship competitions.
Before the training, a single-pulse transcranial magnetic stimulation (TMS) was used to identify the region of the brain that controls the impaired hand and arm. Brief pulses of energy was sent to the brain using a wand, and EMG from the upper extremity muscles was recorded.
A young kid in the study summarized TMS as follows: "Oh, I get it, it's like a metal detector that beeps when it finds something!" Brilliant!
Although the study data will be blinded until the trial is complete, we received some very heartwarming feedback from participants. Some noticed that their impaired hand felt stronger and more useful. Some parents commented that their children were eager to show off their new bimanual skills at home.
Featured Researchers and Members