You are here
PTEN, MIR, ROS and NSC: Studies of Acronyms in Autism
EVENT:
Weekly Seminar | Not Open to the Public
Who Should Attend:
Researchers
Event Flyer:

seminar-harley-kornblum-090418.pdf
Abstract:
The loss of Pten function results in macrocephaly and autism. We have been exploring the role of Pten in the genesis of normal neural stem cells. Genetic deletion or inactivation of Pten via reactive oxygen species can produce enhanced neural stem cell production. In the developing mouse fetus, maternal inflammation activates NADPH oxidase, which then activates reactive oxygen species, producing enlarged brains and many behavioral phenotypes similar to those found in autistic individuals. Surprisingly, we find that many of these behaviors can be temporarily reversed by pharmacologic treatment.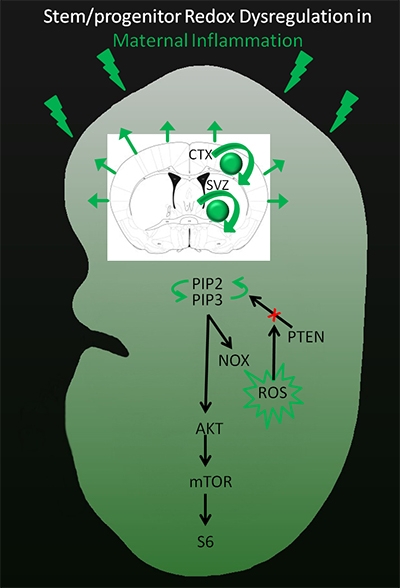 Publications
Science. 2001 Dec 7;294(5549):2186-9. Epub 2001 Nov 1.
Cell Stem Cell. 2011 Jan 7;8(1):59-71. doi: 10.1016/j.stem.2010.11.028.
Stem Cell Reports. 2014 Nov 11;3(5):725-34. doi: 10.1016/j.stemcr.2014.09.004. Epub 2014 Oct 11.