You are here
The Immunology of Blood: Unlocking the Drivers for Neurodegeneration
EVENT:
Weekly Seminar | Not Open to the Public
Who Should Attend:
Researchers
Event Flyer:

seminar-katerina-akassoglou-120120.pdf
Abstract
The communication between the brain, immune and vascular systems is a key contributor to the onset and progression of neurological diseases. The Akassoglou lab identified the coagulation factor fibrinogen as a blood-derived driver for neuroinflammation in a wide range of neurologic diseases, such as multiple sclerosis, Alzheimer's disease and brain trauma. Her lab showed that fibrinogen is necessary and sufficient for neurodegeneration and a new culprit for microglia-mediated oxidative stress-dependent spine elimination and cognitive impairment. By developing Tox-Seq, her lab reported the oxidative stress innate immune cell atlas in neuroinflammation. Her lab developed cutting-edge imaging tools to study the neurovascular interface and a first-in-class fibrin-targeting immunotherapy to selectively target inflammatory functions of fibrin without interference with clotting with efficacy in autoimmune- and amyloid-driven neurotoxicity. These findings could be a common thread for the understanding of the etiology, progression, and development of new treatments for neurologic diseases with neuroimmune and cerebrovascular dysfunction.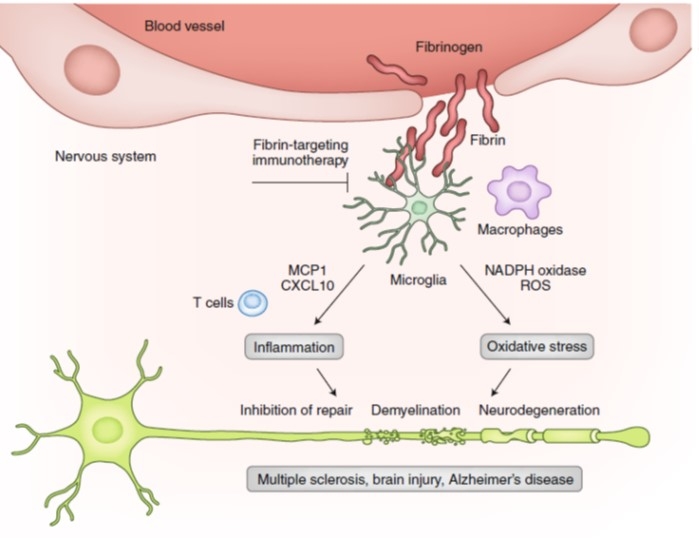 Publications
Nat Immunol . 2020 Jul;21(7):710-712. doi: 10.1038/s41590-020-0671-z.
Nat Immunol . 2020 May;21(5):513-524. doi: 10.1038/s41590-020-0654-0. Epub 2020 Apr 13.
Neuron . 2019 Mar 20;101(6):1099-1108.e6. doi: 10.1016/j.neuron.2019.01.014. Epub 2019 Feb 5.