You are here
VNS-REHAB
Flyer:

vns-rehab-flyer-forms.pdf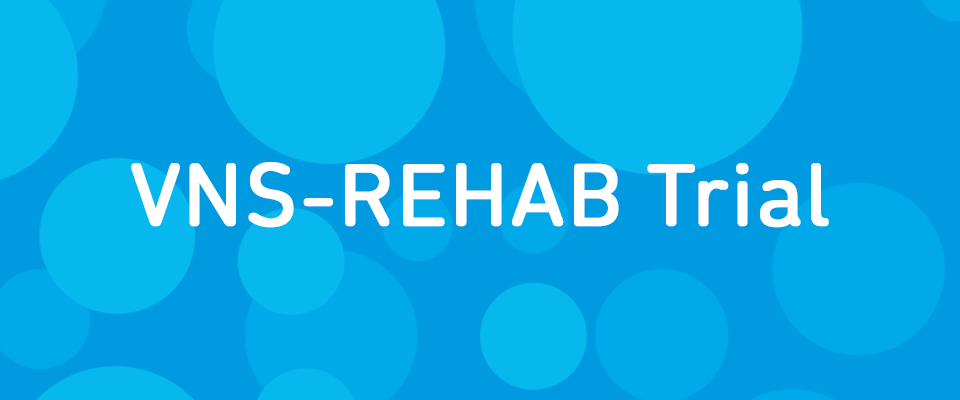 What Do We Do?
We are looking for volunteers to undergo a six-week session of intensive rehabilitation therapy. There will be three sessions each week, each session of rehabilitation therapy will last about one hour. The therapy sessions will include traditional rehabilitation exercises, but the patient will receive nerve stimulation while they are performing the exercises. 
What Type of Stimulation Will I Receive?
In order to receive the stimulation, patients are implanted with a device called a vagus nerve stimulator. It is similar to a cardiac pacemaker, but the stimulation lead is attached to the vagus nerve in the neck. Evidence from prior clinical trials suggests that paring vagus nerve stimulation (VNS) with rehabilitation can increase the rate at which the brain relearns tasks. Vagus nerve stimulation is not a new therapy, it has been used to treat epilepsy for over 20 years. 
What Should I Expect at Each Treatment?
The Exact length of each rehabilitation session will vary, although a typical session is anticipated to be 90 minutes to 2 hours, excluding time needed for stretching. The therapy will be focused on task-oriented rehabilitation for recovery of your more affected arm and hand.
How Do Patients Qualify for the Study?
If you are 21-80 years old, have had an ischemic stroke (caused by a blood clot) that occurred at least 9 months but no more than 10 years ago, and experience residual arm or hand weakness, then you may qualify for the study.
How Much Does It Cost?
FREE OF CHARGE
Timeline of Study
Visit 1 & 2: Screening Visit and pre-implantation visit
Visit 3: VNS implant
Visit 4: Pre-Therapy Baseline
Visits 5-22: 18 Treatment Sessions
Visits 23-25: Follow Up Assessments
If you receive a placebo or "sham" VNS during the treatment sessions, we will have you wait 3 months and return for another stage of complimentary therapy (18 sessions) with the active VNS.
Eligibility
Age Range:
21-80 years old
Inclusion Criteria:
Are 21-80 years old.
Have had an ischemic stroke (caused by a blood clot) that occurred at least 9 months but no more than 10 years ago.
Experience residual arm or hand weakness.
If you are a stroke survivor, or know someone who has had a stroke, but do not qualify for this study, we ask that you still complete and send us your information. We offer other programs that you or someone you know may be eligible for.
Sponsor
MicroTransponder Inc.