You are here
Operant Conditioning of the Soleus Stretch Reflex in People with Spastic Cerebral Palsy
CLINICAL TRIAL:
In-Progress / Currently Recruiting Participants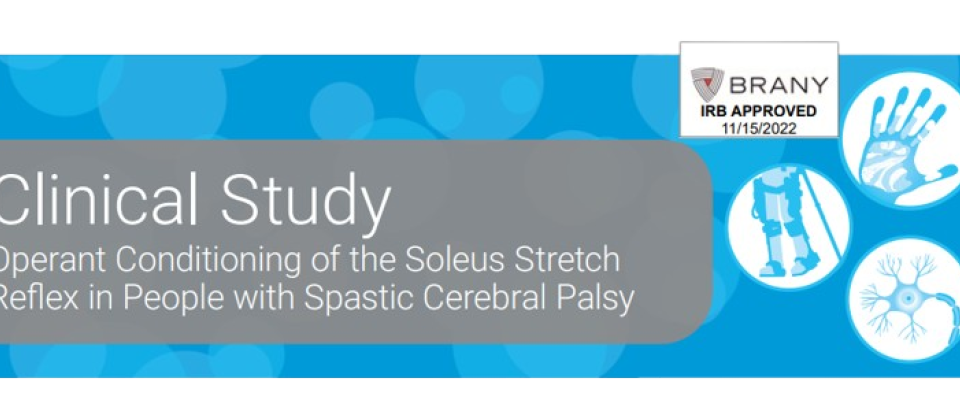 What do we do?
We are using a leg reflex training program to hopefully decrease muscle spasticity in the affect calf muscles of adults with spastic cerebral palsy. We are studying whether this reflex training will reduce the amount of spasticity found in the leg muscles, without making the muscles weaker.
What should I expect?
We will do up to 6 pre-testing sessions to make sure you are a good fit for our study and to collect baseline data. Next, we will do 30 sessions, which will be 3 times a week for 10 weeks, and each session will be 60-90 minutes long. You will receive compensation for each session. During the session, we will be stimulating the reflex in your knee in order to try and "down-condition", or lower, the spasticity activity in your leg.
Timeline
Pre-study testing and data collection
30 sessions, to be spread out 3 times a week for 10 weeks
Post-study testing and data collection
How Much Does It Cost?
FREE OF CHARGE
Participant will receive $25 per session completed
Eligibility
Age Range:
18 Years and Older
Gender:
Both (Male and Female)
Inclusion Criteria:
You may be eligible for this study if you meet the following requirements:
Diagnosis of unilateral spastic cerebral palsy/Hemiplegia

No major health issues other than CP

Not currently receiving botox injections, for 2 months prior to enrolling in the study