You are here
Immersive Virtual Reality for Chronic Neuropathic Pain After Spinal Cord Injury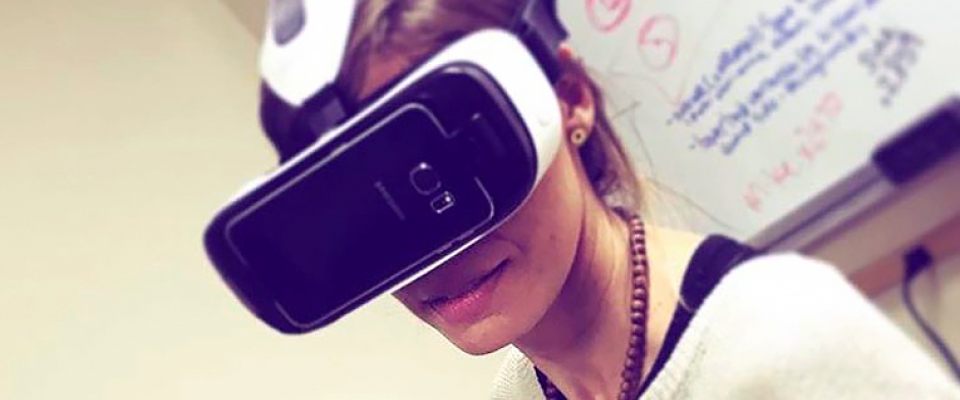 The Human Spinal Cord Injury Repair Laboratory at Burke Medical Research Institute is currently looking for participants with tetraplegia after spinal cord injury for a clinical research study.
Neuropathic pain is a very disabling clinical condition that affects 40 to 70% of people with spinal cord injury. Many spinal cord injury treatment options are available; however, today's treatments offer limited results, often leaving people with a reduced quality of life.
This study will investigate the effects of two different immersive virtual reality (IVR) protocols in neuropathic pain. Participants will be asked to attend the lab in two occasions for an IVR experience. Clinical and functional scales and questionnaires will be collected before and after the IVR protocol. 
IVR protocols will entail:
Somatic IVR: This protocol is focused on somatic interaction that encourages disassociation between pain and visualization and movement of the affected limbs. Subjects will be exposed to an IVR environment that cycles them through a series of stretching and mobility exercises for the affected limbs bilaterally.
Distractive IVR: This protocol is focused on distracting the subject from the pain. Subjects will be exposed to variety engaging landscape IVR environments, without the ability to visualize their own body.
Eligibility
Age Range:
18 to 80 years old
Gender:
Both (Male and Female)
Inclusion Criteria:
Age: 18 to 80 years.
Injury Date: Greater than 6 months after the injury.
Injury type: Cervical lesion. Complete/Incomplete. Traumatic/Non-Traumatic.
Presence of chronic neuropathic pain at or below SCI level for at least 3 months following trauma or disease of the spinal cord, located in the upper extremity (hands or arms) or lower extremity (legs).
A pain intensity of at least 4 out of 10 in the numerical rating scale (NRS) in the Neuropathic Pain Scale (NPS) test at both screening (baseline) and randomization (pre-evaluation).
Stable pharmacological treatment for at least 2 weeks prior to the study and throughout the trial.
Exclusion Criteria:
Presence of severe pain of other origin, such as musculoskeletal pain.
Presence of psychiatric or other neurological disorders.
Head injuries causing cognitive or visual impairment.
Severe vertigo.
Medically unstable.