You are here
"A Celebration of Blythedale" 2019: Glitz, Glamour and Giving Back
September 25, 2019
"We don't predict the future. We create it."
With that passionate statement, Larry Levine, President & CEO of Blythedale Children's Hospital, helped kick off a special night at Tribeca Rooftop in Manhattan for "A Celebration of Blythedale", held last week.
220 guests helped raise nearly $700,000 for Burke-Blythedale Pediatric Neuroscience Research Collaboration, New York's only dedicated post-acute pediatric brain injury unit.
"We are fueled by a moral imagination that compels us to push forward to help sick kids facing devastating medical and physical challenges," said Mr. Levine. "We owe these kids the chance to have their lives transformed as if they were our own children."
On the microphone as master of ceremonies for the Hospital's biggest fundraiser was Bruce Beck, NBC4 New York Lead Sports Anchor.  The multiple Emmy winning sportscaster kept the gala going with his optimism, anecdotes and sports stories—all while praising Blythedale for its innovative programs and inspirational leaders, patients and families.
"I'm just so impressed with the heart and soul of Blythedale," said Mr. Beck.  "This hospital gives kids and their parents, real hope."
Blythedale Board Chair David Pedowitz also spoke to guests about the Hospital's future.  "We're going to continue to do everything we possibly can to be counted among the leaders in helping kids, while always moving forward and not being satisfied with the status quo."
The Hospital recognized the efforts of individuals and corporations that made significant contributions to the "Blythedale Difference".  This year's honorees included Kenny Dichter and Gary Spitalnik of Wheels Up, a revolutionary membership-based private aviation company, and Kristina Wozniak Leitenberger and Lori Spada Lynch of Artistry Dance Project, Westchester's premier dance studio. All spoke about what the distinction meant for them.
"It's great to be honored, but the true honorees are everyone involved in Blythedale," said Kenny Dichter, Founder and CEO of Wheels Up. "The Blythedale difference is the people because when you walk in there you feel the human touch, you feel the care and you just feel the love."
"The people who deserve the credit are the folks at the hospital, every day, helping kids every way that they can," said Gary Spitalnik, Co-Founder and Executive Vice President of Wheels Up.  "The way the patients and families are treated and the way that every case is the most important case; I think that's really the incredible difference."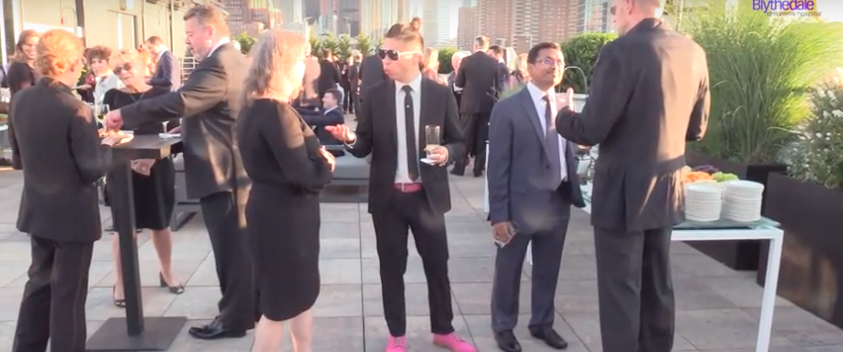 "The Artistry Dance Project family, teachers, dancers and parents are truly blessed to be part of the Blythedale community," said Kristina Wozniak Leitenberger, Founder and Artistic Director of Artistry Dance Project, "We are thankful for this honor which will serve as an example to our next generation that their actions matter and to live a life that showcases love, humility and compassion."
"Blythedale has such a sense of family, community, love and selflessness that it's literally the source of what's brought us all together for the greater good," said Lori Spada Lynch, Co-Founder and Artistic Director of Artistry Dance Project. "To be able to be part of something bigger, which can help so many others, there's really no words."
In addition, special guest speakers included The Saltzman family, tireless advocates of Blythedale. Their youngest child, Emilie, suffered a devastating traumatic brain injury in 2015 after she was thrown from a horse. She was admitted to Blythdale's Traumatic Brain Injury Unit three weeks later where she relearned how to walk, eat and communicate.  Eventually, the girl affectionately called "perpetual motion", returned to her home and community school. 
"We're just excited to be able to help pay it back to the community that supported us and let people know that this place exists in your backyard" said Jeremy Saltzman, Emilie's father. "This Hospital is inclusive care and a building full of doctors, nurses and therapists that all help to bring your kid back from the edge."
"I can remember our time at Blythedale like it was yesterday and the simplest triumphs for Emilie," said Renee Saltzman, Emilie's mother.  "It was those triumphs that gave us hope that recovery was happening."
"Blythedale feels like a home to me because they treated me like family," said Emilie Saltzman, former Blythedale patient. "When I fell off the horse, it was very hard to get better, but I was strong and I worked hard to get better."
Other highlights from the night included the exciting, live "mission moment" led by charity auctioneer C.K. Swett that drummed up 91 pledges for more than $200,000 in a mere 10 minutes, and the short film, In the Blink of an Eye, which followed the paths of two brain-injured patients at Blythedale and their inspiring roads to recovery.  Plus, attendees enjoyed a special performance by four senior dancers from Artistry Dance Project.