You are here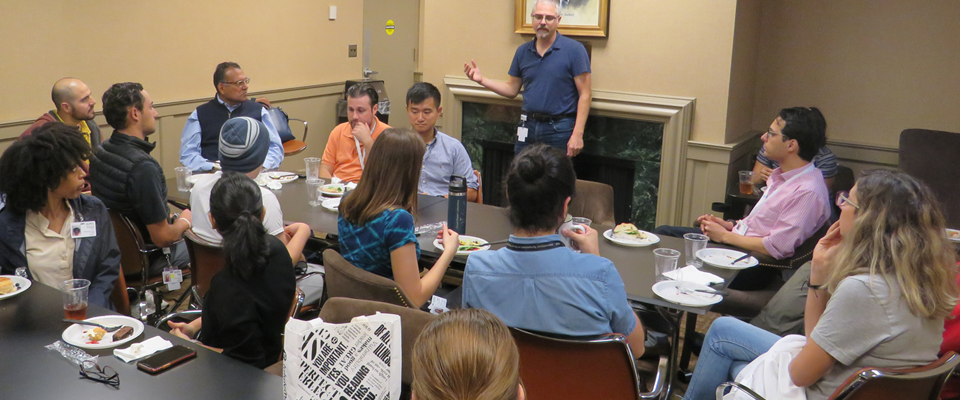 Thank You Postdocs!
September 28, 2022
National Postdoc Appreciation Week 2022
From September 19th to 23rd Burke Neurological Institute Office of Postdoctoral Advancement hosted events to honor and recognize the significant contributions and dedication that postdoctoral scholars make to research and discovery each and every day. During the celebration week, postdoctoral fellows were invited to attend a grantsmanship meeting and appreciation lunch. On Friday, September 23rd postdoctoral fellows of the Burke Neurological Institute and Weill Cornell Medicine joined Nick Edwards, hosts the 'Once a Scientist' podcast, for a live webinar on 'The Long and Winding Road - Career Paths Beyond the Bench.' Enjoy watching the recorded webinar. Thank you postdocs!
Nick Edwards is a neuroscientist by training and completed his Ph.D. at Brown University. During his postdoctoral fellowship, Nick took a leap of faith straight into industry - first as a strategy consultant at BCG, then in multiple roles across biotech. Most recently, Nick built a 'venture studio' at Alloy Therapeutics, where he invested in and co-founded biotech startups. Nick also founded and hosts the 'Once a Scientist' podcast, where he talks with scientists about their careers in academia, industry, and beyond. In his talk, Nick will discuss the motivations behind each of his transitions and some of the key (aka difficult) lessons he's learned along the way.