You are here
CSF Soluble p-tau Identify Stages of Tauopathy in Dominantly Inherited AD
EVENT:
Weekly Seminar | Not Open to the Public
Who Should Attend:
Researchers
Event Flyer:

seminar-eric-mcdade-020221.pdf
Abstract
Eric McDade, DO, is an Associate Professor of Neurology at the Washington University School of Medicine in St. Louis. His research interests include the application of cerebrospinal fluid and neuroimaging measures to identify early pathology of Alzheimer's disease, the interaction of cerebrovascular function and Alzheimer pathology with the ultimate goal of identifying early markers of Alzheimer's disease progression that can be used in testing disease modifying therapies.
Dr. McDade serves as the Associate Director of the Dominantly Inherited Alzheimer's Disease Trials Unit and the Clinical Core Leader of the Dominantly Inherited Alzheimer Network Observational Study where he and his colleagues are using a global, natural history study to develop prevention trials to in Dominantly Inherited AD. As part of this work he is the Principle Investigator of the first ever primary prevention trial in familial Alzheimer disease which will test whether preventing the development of amyloid plaques will prevent the development of dementia in those with a genetic form of the Alzheimer's disease that leads to young-onset dementia.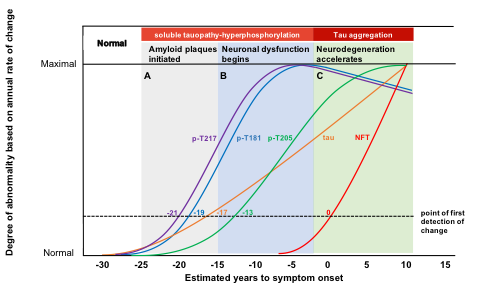 Publications
Nat Med. 2020 Mar;26(3):398-407. doi: 10.1038/s41591-020-0781-z. Epub 2020 Mar 11.
JAMA Netw Open. 2019 Dec 2;2(12):e1917126. doi: 10.1001/jamanetworkopen.2019.17126.
Neurology. 2018 Oct 2;91(14):e1295-e1306. doi: 10.1212/WNL.0000000000006277. Epub 2018 Sep 14.