You are here
Brain Pathways for Vocal Learning and Spoken Language
EVENT:
Weekly Seminar | Not Open to the Public
Who Should Attend:
Researchers
Event Flyer:

seminar-erich-jarvis-010521.pdf
Abstract
Vocal learning is the most critical behavior for spoken language. It has evolved multiple independent times among mammals and birds. Remarkably, although all vocal learning species are distantly related and have closer relatives that are non-vocal learners, humans and the vocal learning birds have evolved convergent forebrain pathways that control vocal learning. We used comparative genomics and transcriptomics to discover convergent changes in multiple genes in song learning pathways in birds and speech pathways in humans. The vocal learning brain pathways have convergent specialized changes in genes that control connectivity, neuroprotection, and synaptic plasticity. We have found that specialized regulation is associated with convergent accelerated regions in the genomes of these species, which in turn have differential epigenetic availability in enhancer regions of some of the genes, inside the neurons of the vocal learning brain regions. To explain these findings, we propose a motor theory of vocal learning origin, in which brain pathways for vocal learning evolved by brain pathway duplication of an ancestral motor learning pathway, using mostly the same genes, but with some divergences in gene regulation via sequence and epigenetic changes, that control divergent connectivity and other functions.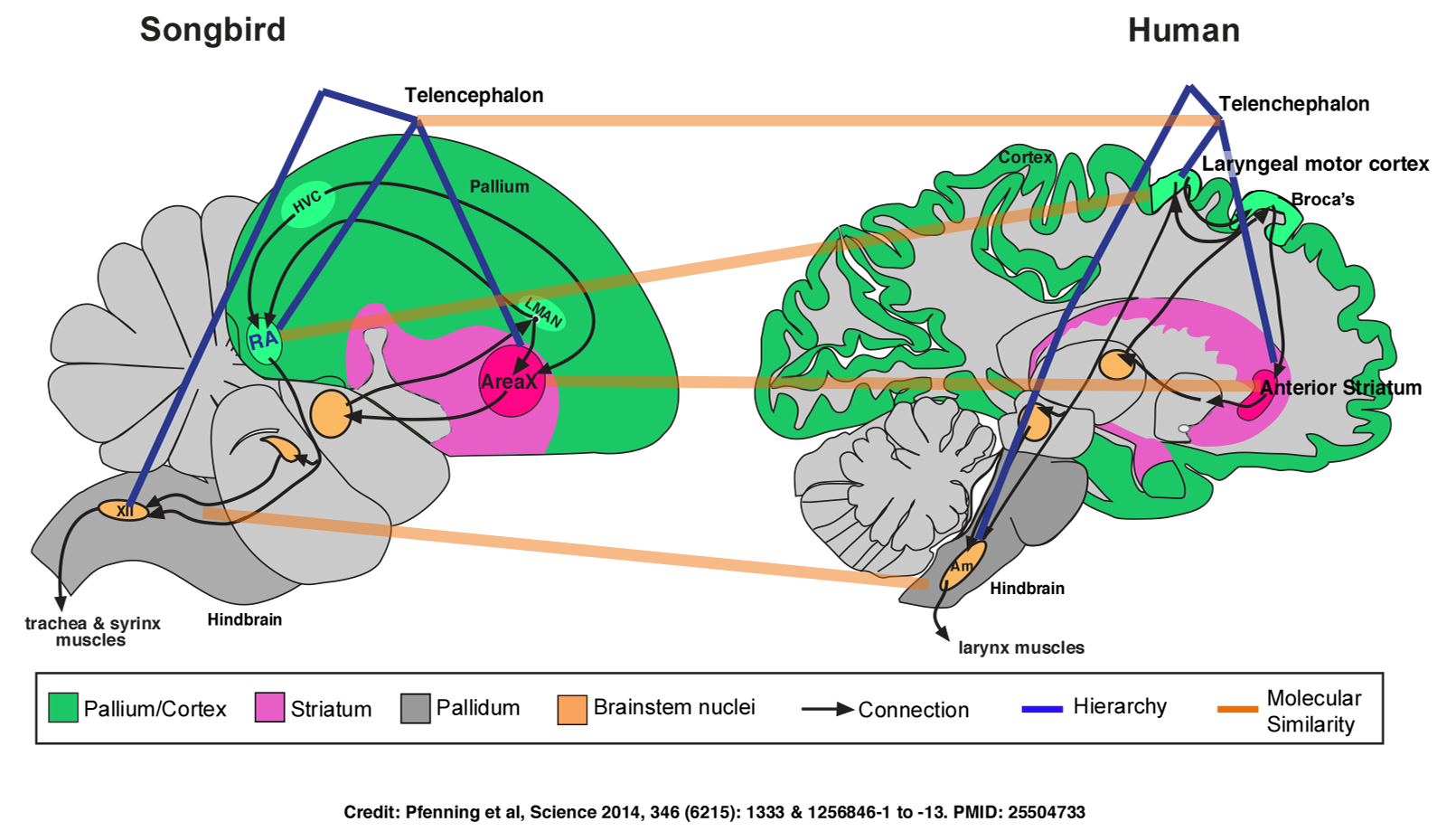 Publications
Science. 2019 Oct 4;366(6461):50-54. doi: 10.1126/science.aax0287.
FASEB J . 2019 Dec;33(12):13825-13836. doi: 10.1096/fj.201900760RR. Epub 2019 Oct 11.