You are here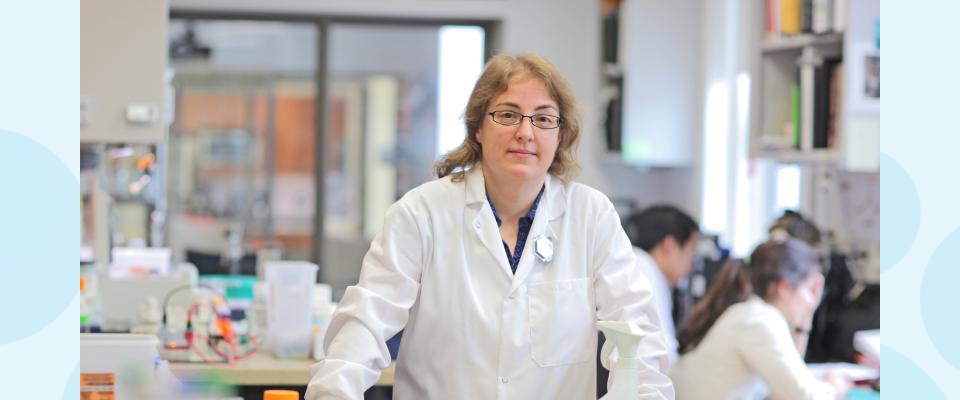 New Research Director to Lead Future of Landmark Burke-Blythedale Partnership
May 1, 2019
Blythedale Children's Hospital and Burke Neurological Institute announce the appointment of Dianna E. Willis, Ph.D., as Director of Research for the Burke-Blythedale Pediatric Neuroscience Research Collaboration. Dr. Willis joins Drs. Glen Prusky, Director of the Vision Recovery Program and Kathleen Friel, Director of Cerebral Palsy Research as co-Directors. Now in its third year, this unique partnership seeks to translate advances in basic neuroscience into new and improved treatments for children with neurological impairments.
The Burke-Blythedale Pediatric Neuroscience Research Collaboration is the first partnership between a research institute and a children's specialty hospital to study and treat the developing nervous system in New York State, and one of only a few in the country. It brings together the expertise and resources of two preeminent institutions located in New York's Westchester County, just north of Manhattan.
Dr. Dianna E. Willis received undergraduate degrees at the University of Pittsburgh in Biology and English. She completed her Ph.D. in Molecular Biology and Genetics at the University of Delaware, and her postdoctoral fellowship in Neurobiology of local axonal protein synthesis at Nemours Biomedical Research, Alfred I. duPont Hospital for Children in Wilmington, Delaware.
In 2010, Dr. Willis accepted dual faculty appointments at Weill Cornell Medicine and Burke Neurological Institute, where she developed and currently directs the Laboratory for Axonal and RNA Biology. Her laboratory studies axons (nerve cells) and their function in theperipheral nervous system as it relates to diseases such as ALS and chemotherapy-induced neuropathy. She was named the Associate Director of Burke Neurological Institute in 2017, and assumed the role of Director of the Burke-Blythedale Pediatric Neuroscience Research Collaboration in September of 2018.
"This Collaboration is a way for us to bring basic science research findings at Burke Neurological Institute into the clinical space while developing a culture of research at Blythedale," said Dr. Willis. "Now that it's in full swing, Hospital clinicians and therapists are more optimistic that the questions they've always wanted to ask now can actually be answered."
Dr. Willis also oversees the Collaboration's three main areas of research: Vision Recovery (evaluating and treating children with vision impairment), Hemiplegia (total or partial paralysis of one side of the body), and Cognitive Neurorehabilitation (rehabilitation of the nervous system to improve memory, thinking, and feeling), working closely with the program's scientific directors, Drs. Prusky, Friel and Sudhin A. Shah, respectively.
"When I was asked to step up and help usher in the next phase of the Collaboration, there had already been some pretty impressive successes," said Dr. Willis. "Just going from zero research programs to three in such a short time shows the investment in this partnership and really energizes you to realize that everyone here desperately wants to improve the quality of care and find cures for these kids."
About Burke Neurological Institute
The Burke Neurological Institute is a research institute dedicated to finding cures for chronic neurological disabilities. We transform groundbreaking research into clinical treatments so that people can see, talk, and walk again. Hope demands innovation and brilliant science, and every day with our academic affiliate, Weill Cornell Medicine, we transform groundbreaking research into promising neurological treatments. Our specialized clinics (called quaternary care clinics) will revolutionize the therapeutic pipeline—speeding up the process of turning insights from the lab into life-changing results for patients with neurological impairments.

About Blythedale Children's Hospital
Blythedale Children's Hospital is New York State's only independent, specialty children's hospital and one of only 14 pediatric specialty hospitals in the United States. Serving patients from birth through age 19, Blythedale has the combined staff, expertise and resources – including the largest pediatric therapy department in New York State – to provide exceptional comprehensive care for medically complex children and support for their families. Children are admitted for a variety of medical conditions, including respiratory, traumatic brain injuries, pulmonary hypertension, high tech feeding, complicated trauma, cancer rehabilitation, spinal cord disorders and genetic/neuromuscular disorders. The Hospital is comprised of an 86-bed inpatient unit, a 24-bed long-term care pavilion, and a Day Hospital program. Our goal is to help our patients achieve their rehabilitative goals and return.
Featured Researchers and Members