You are here
Summer Science Program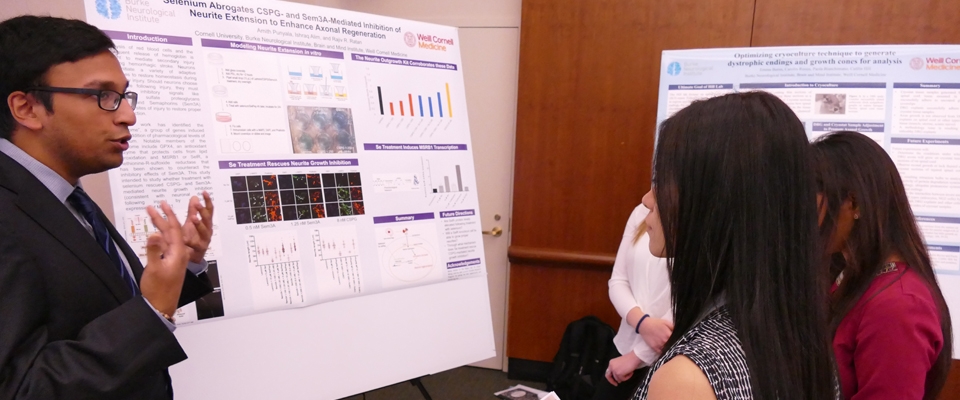 A Summer Program for Undergraduates
Burke Neurological Institute (BNI) invites undergraduate students interested in pursuing a career in biomedical sciences the opportunity to worked first-hand on cutting-edge medical research projects through our Summer Science Program.
Selected participants will be involved in conducting a laboratory based research project related to neural repair and restoration to help those living with chronic neurological issues caused by strokes, traumatic brain and spinal cord injuries, and neurological diseases such as Alzheimer's. Throughout the summer program, students will have considerable direct interaction with their faculty mentors and staff across the Institute.
Each week, students will attend both introductory and professional level research seminars. A weekly summer seminar series given by our faculty is designed to engage students in discussions about specific topics in neurobiology and neurorehabilitation as well as career development in biomedical research. The Institute also hosts a weekly seminar series presented by invited international leaders in field of neurobiology and neurorehabilitation.
In the final week, our Summer Science Program culminates in an annual scientific poster session with presentations by each student's summer project. Faculty, board members, alumni, family members, friends, and members and community of the Institute are invited to attend the poster session to congratulate the students achievements and discoveries fulfilled during the summer program.
2022 Dates & Details
The Summer Science Research Program is a 10-week program that will run from June 6 through August 12, 2022. 
Application deadline March 6, 2022.
Acceptance into the program requires student availability and participation for the entirety of the program duration.
Participating students will receive a stipend of $3,000 that begins July 1st.
Students are responsible for housing and transportation as they are not provided by the program.
Proof of COVID-19 vaccination is required for participation.
Eligibility
Students participating in the program are expected to meet the following minimum criteria:
Current enrollment in, and completion of at least one full academic year at, a U.S. college or university. 
Completion of an introductory biology course.
Although not required, preference will be given to students who have also completed one semester of bench laboratory classes or equivalent experience.
A cumulative 3.4 G.P.A. or better (unless special circumstances can be provided).
2 letters of recommendation from faculty able to accurately judge the applicant's abilities and motivations.
A transcript and resume in addition to the completed applicant form.
How to Apply
A completed application and required documents must be submitted by the application deadline March 6, 2022.
A completed online application includes the following required documents:
Undergraduate transcript (a student copy is acceptable)
Resume or C.V.
2 Letters of recommendation (from faculty able to accurately 

evaluate

your abilities and motivations)
STEP 1
Select three research labs that you would like to study under and that best match your interest. See list of lab/faculty.
STEP 2
Collect and gather the following documents in either a MS Word or PDF file format to upload to your application:
Undergraduate transcript (a student copy is acceptable)
Resume or C.V.
STEP 3
Select two faculty/professors that are able to accurately evaluate your abilities and motivations. Gather an email address for each faulty/professor. You will need to input each email addresses into your online application. After your application has been submitted an email with instructions will be automatically sent to your selected faculty/professors. Remember to follow up with the faculty/professors you have listed. Inform them to look for the email with the subject line BNI Summer Science Application – Letter of Recommendation.
To complete your application two letters of recommendation must be submitted by the application deadline March 6, 2022. 
You will receive an email confirmation after each faculty/professor has submitted a letter of recommendation. If you do not receive an email confirmation in a timely manner, please follow up once again to remind your faculty/professors to submit a letter of recommendation.
STEP 4
Previewing the online application and prepare short answers about your experience.


bni-summer-science-application-2022.pdf
STEP 5
Students with incomplete applications will not be considered.
Students will be notified the week of March 21, 2022 of their acceptance in this program.
All interested applicants are welcome to contact the program coordinator with any questions regarding this process.