You are here
TRANSPORT2: Transcranial Direct Current Stimulation for Post-Stroke Motor Recovery
CLINICAL TRIAL:
In-Progress / Currently Recruiting Participants
Flyer:

transport2-flyer-2020.pdf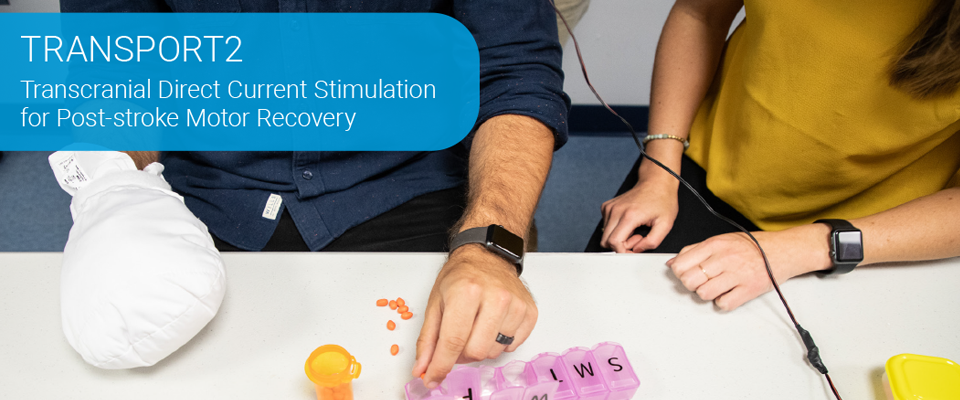 Are You Recovering from a Stroke?
This research study is being done to find out if non-invasive brain stimulation combined with a rehabilitation therapy improves arm weakness that is caused by a stroke. All participants will receive 10 sessions of rehabilitation with the hand that was affected by the stroke while wearing a mitt on the unaffected hand during therapy and at home, a special type of rehabilitation known as constraint-induced movement therapy. Each session of therapy will last about two and a half hours. During the first part of each therapy session, participants will receive noninvasive brain stimulation while performing the exercises.
Compensation
Participants will receive $75/visit. The entire study from start to finish will comprise of at least 15 visits.
Eligibility
Age Range:
18-80 years old
Inclusion Criteria:
Are 18-80 years old
Had a first-time ischemic stroke (caused by a blood clot) that occurred at least 1 month but not more than 6 months ago
Experience residual arm or hand weakness
This study is being done at multiple locations and is sponsored by the National Institutes of Health. If you are a stroke survivor, or know someone who has had a stroke, but do not qualify for this study, we ask that you still contact us. We offer other programs that you or someone you know may be eligible for.
Collaborators
National Institute of Neurological Disorders and Stroke (NINDS)